The following map shows the Marin County home prices by city for July 2022.
The numbers are the average sale price per city for single-family residential homes.
Insights are below.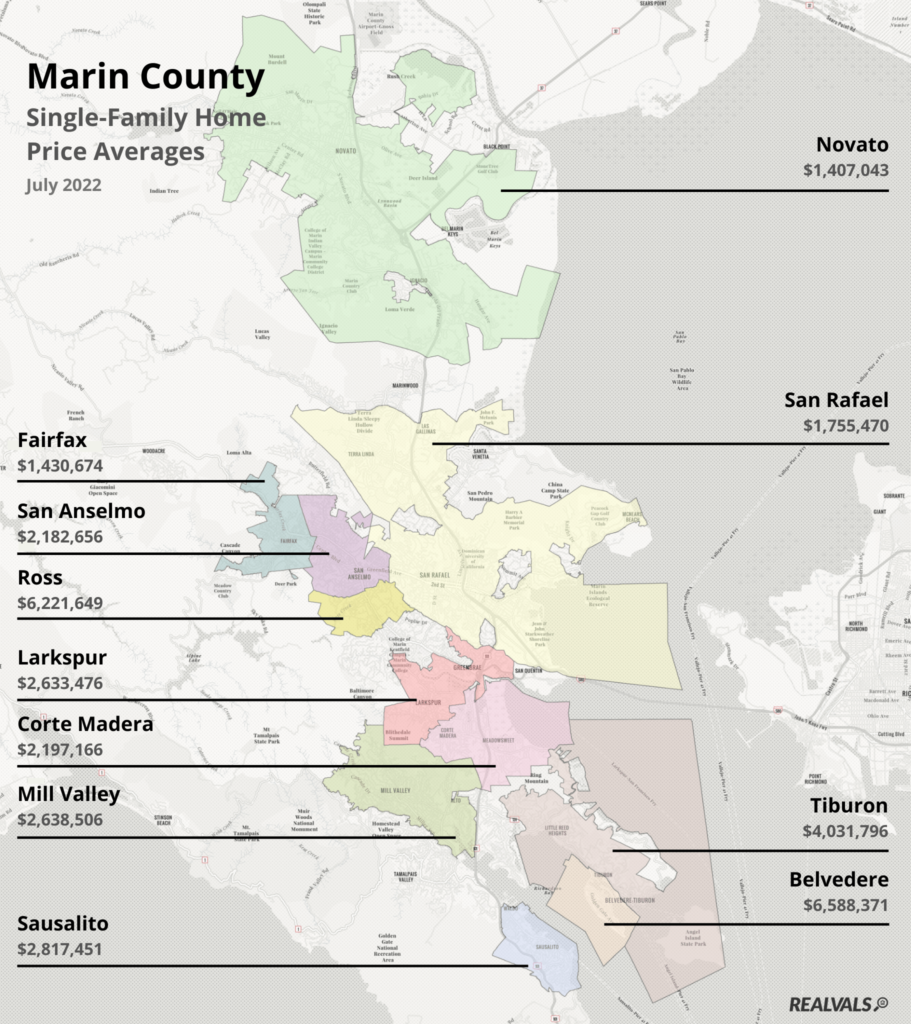 Marin County home prices continue to increase towards the end of July 2022, for the most part, despite the higher interest rates, time of year, and other macroeconomic factors.
Some areas are starting to show signs of stabilization, especially in the higher-end markets. But overall, the market is still increasing.
Nearing the end of July, Belvedere has had the highest average price, making it the most expensive city in Marin County.
Ross is coming in a close second, followed by Tiburon in third.
Larkspur, Mill Valley, and Sausalito are around the 2.5 – 3 million range, while San Anselmo and Corte Madera are just above 2 million.
San Rafael, Fairfax, and Novato are in the mid to higher $1 million range.
The table below shows the number of sales and averages as of writing this.
| City/Town | # of Sales | Average Price |
| --- | --- | --- |
| Novato | 587 | $1,407,043 |
| San Rafael | 557 | $1,755,470 |
| Fairfax | 114 | $1,430,674 |
| San Anselmo | 212 | $2,182,656 |
| Ross | 37 | $6,221,649 |
| Larkspur | 74 | $2,633,476 |
| Corte Madera | 107 | $2,197,166 |
| Mill Valley | 395 | $2,638,506 |
| Sausalito | 85 | $2,817,451 |
| Tiburon | 145 | $4,031,796 |
| Belvedere | 39 | $6,588,371 |