Marin County is located in the northwestern part of California's San Francisco Bay Area. It is a picturesque region known for its stunning natural beauty and quaint towns.
With a population of around 262,231 as of the 2020 census, Marin County is an ideal destination for those seeking to explore the outdoors, indulge in the arts, relax, and enjoy the Californian lifestyle.
Here in Marin County, you'll find many outdoor activities ranging from boating to hiking, cycling, and more. Many popular trails are here, such as the Tennessee Valley Trail and the Rodeo Beach to Hill 88 Trail.
If exploring the great outdoors isn't your thing, the region is also home to charming towns. Mill Valley, Larkspur, and Point Reyes Station offer a unique combination of relaxed ambiance and culture.
Geography and Climate
Proximity to San Francisco Bay and Pacific Ocean
Marin County is located just north of San Francisco in Northern California. The San Francisco Bay borders it to the east and the Pacific Ocean to the west.
This unique location offers you diverse landscapes and environments to explore. The county seat, San Rafael, is centrally located and easily accessible from San Francisco.
The southern towns of Sausalito, Tiburon, and Belvedere offer stunning views of the bay and a charming coastal atmosphere. Point Reyes and Tomales out west are known for their beautiful rugged coastal terrains.
Beaches and Coastline
Marin County boasts an array of beautiful beaches along its coastline.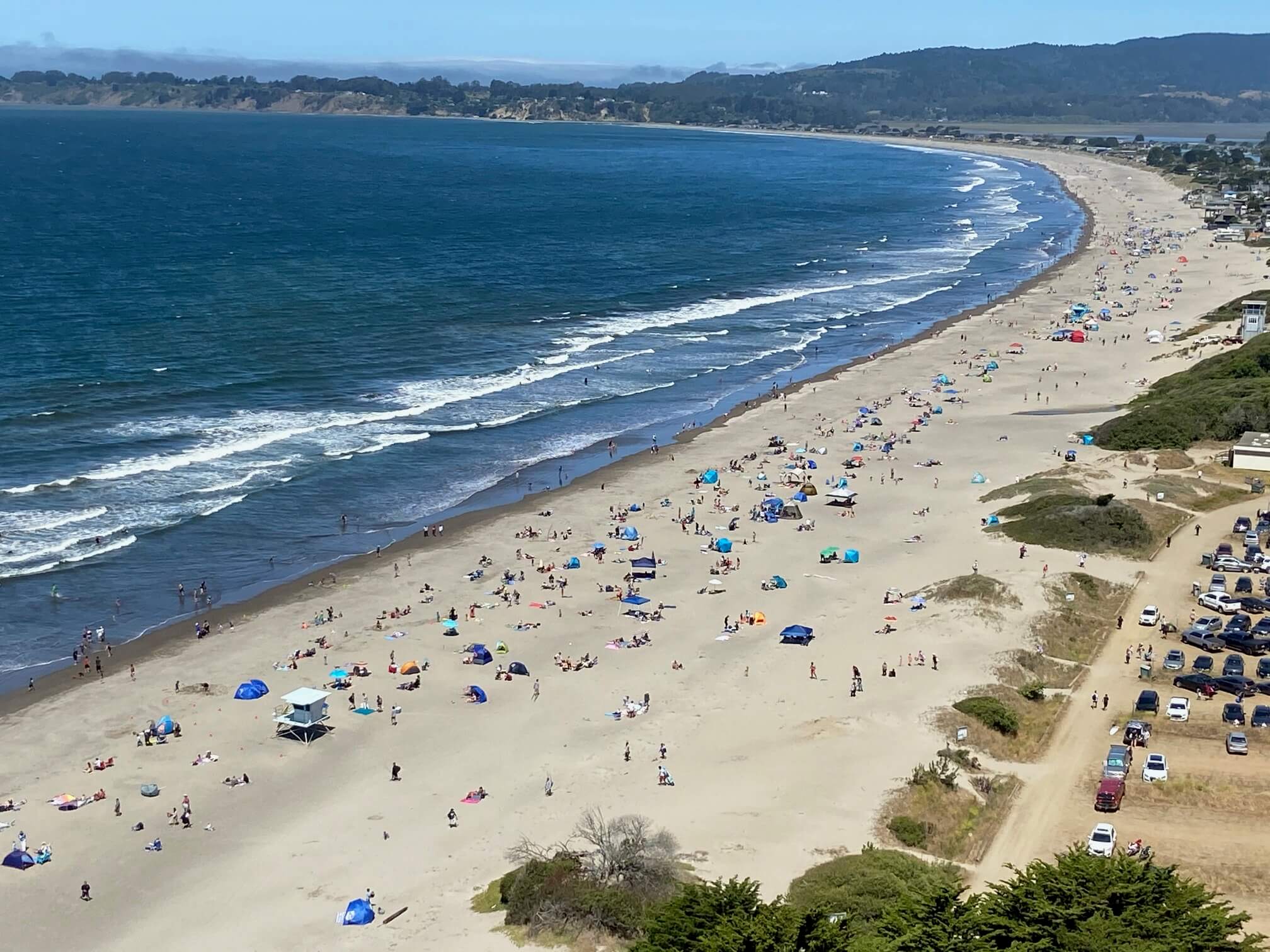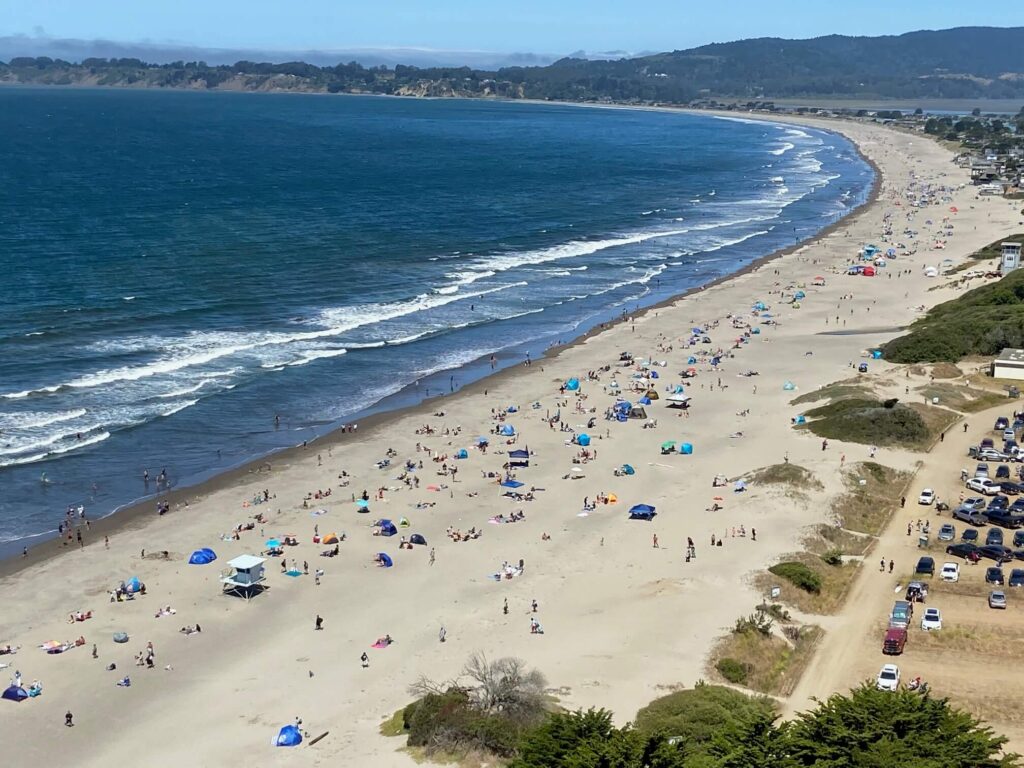 Stinson Beach is a popular destination for sunbathing, surfing, and picnicking. Bolinas Beach offers a more secluded experience for those looking to escape the crowds.
If you're interested in wildlife, head to Point Reyes, where you can spot harbor seals, sea lions, and even migrating whales.
Additionally, Muir Beach and Rodeo Beach are popular spots for relaxing and taking in the area's natural beauty.
Mountains and Forests
In addition to its stunning coastal areas, Marin County is also home to impressive mountains and forests.
Mount Tamalpais, often called "Mount Tam" by locals, is the highest peak in the county. It offers plenty of hiking, mountain biking, and sightseeing. You can enjoy panoramic views of the Bay Area and the Pacific Ocean from here.
The lush redwood forests of Muir Woods National Monument are another must-see attraction. Here you can marvel at the towering ancient redwood trees.
The rolling hills and open spaces of Ross Valley, San Geronimo Valley, and Marin Headlands provide a serene backdrop for outdoor enthusiasts.
Recreation and Attractions
Marin County, California, is a beautiful area known for its diverse natural landscapes, rich history, and vibrant culture.
This picturesque County offers plenty of recreational opportunities for those who want to explore its natural beauty.
Hiking Trails and Parks
Marin County is a haven for hiking enthusiasts with its rolling hills, forests, and coastal scenery.
You can explore multiple State and National Parks here, from Marin Headlands and Samuel P. Taylor State Park to China Camp, Muir Woods, and more.
Some popular treks include the Dipsea Trail, Tennessee Valley Trail, and Alamere Falls hike.
The county's hiking trails cater to all difficulty levels and provide views of the Pacific Ocean, redwood forests, and many bodies of water.
Muir Woods National Monument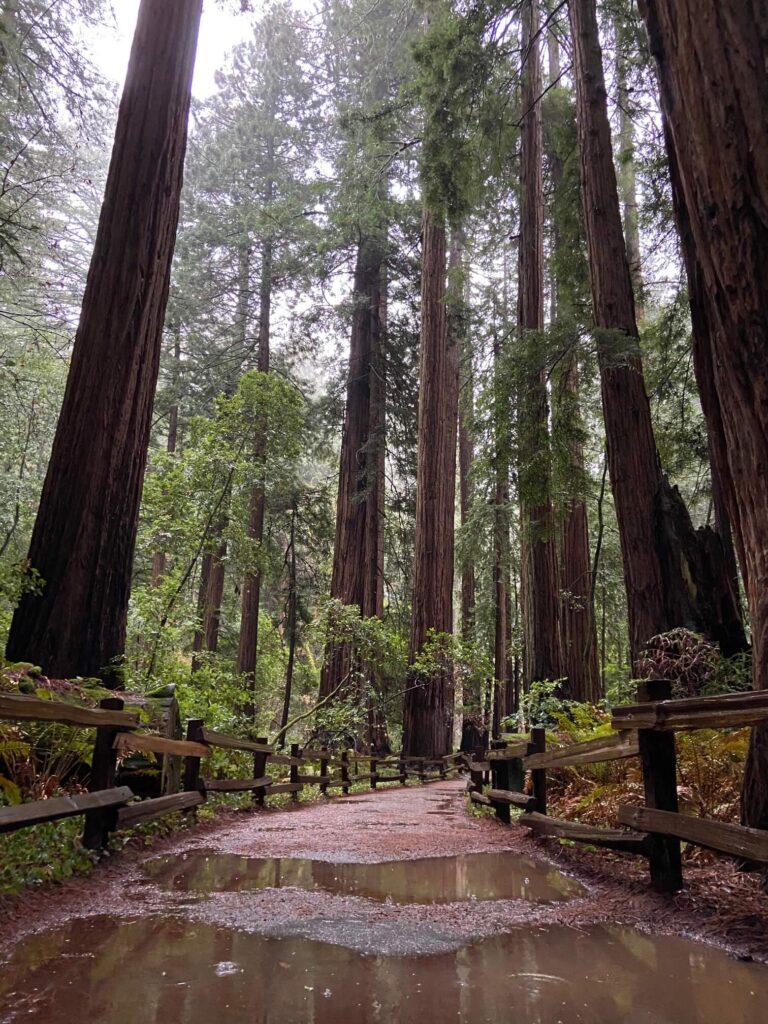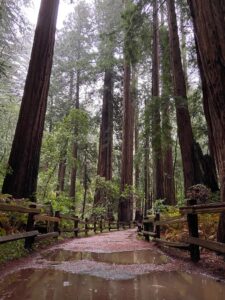 Home to some of the oldest and tallest redwood trees in the United States, Muir Woods National Monument is a must-visit for nature lovers.
Here you can immerse yourself in the beauty of the ancient redwood forests. Stroll along the network of well-maintained paths, or join a ranger-led tour to learn about the unique ecosystem and history of the area.
Point Reyes Lighthouse
The Point Reyes Lighthouse is a historic landmark at the tip of Point Reyes National Seashore. The lighthouse offers breathtaking views of the Pacific Ocean and serves as a vantage point for whale watching during migration season.
The surrounding park provides opportunities for wildlife viewing, with a large population of birds, tule elk, coyotes, and elephant seals.
Point Bonita Lighthouse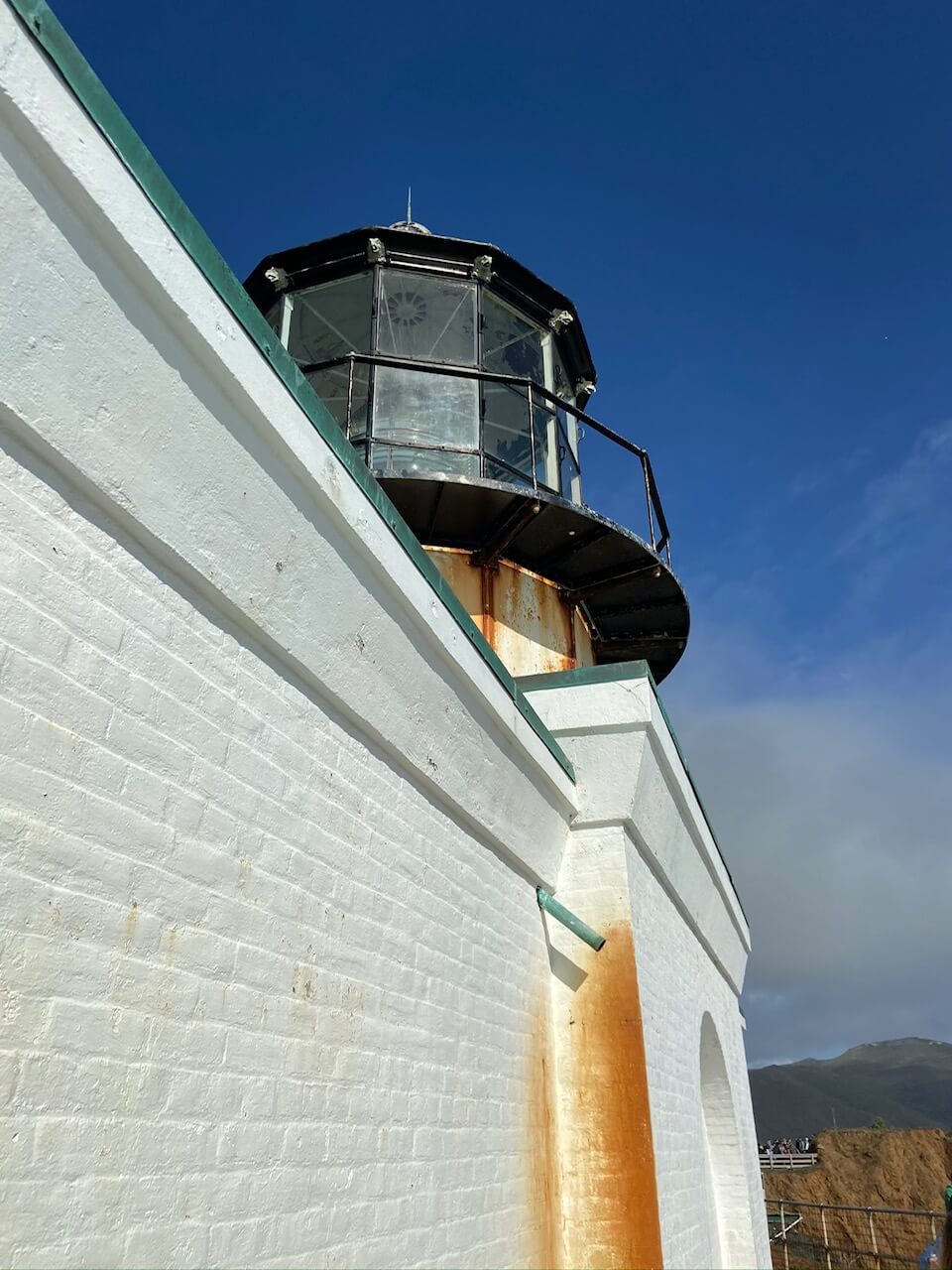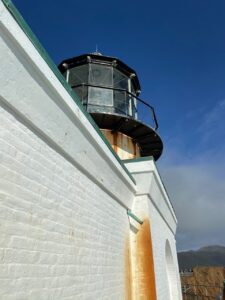 The Point Bonita Lighthouse is another historic Marin lighthouse at the tip of Point Bonita in Marin Headlands.
This lighthouse is accessed via a bridge and has breathtaking views of San Francisco and the Pacific Ocean. It also serves as a vantage point for whale and boat watching.
Angel Island State Park
Accessible by ferry, Angel Island State Park offers unique recreational activities, such as kayaking and stand-up paddleboarding on the San Francisco Bay.
The island is steeped in history, as it has served as a location for Native American settlements, a quarantine station, and a military base.
You can also explore the island's hiking and biking trails to enjoy panoramic views of the bay and the surrounding area.
Marin County Civic Center
The Marin County Civic Center is an architectural gem designed by renowned architect Frank Lloyd Wright.
The Civic Center's design features a distinct blend of organic and modern styles, making it a popular attraction for architecture enthusiasts and tourists.
You can take a docent-led tour to learn more about the building's history and design or attend one of the many events and programs held at the venue throughout the year.
Cities and Culture
Mill Valley
Mill Valley is a picturesque city nestled at the foot of Mount Tamalpais. You'll find a delightful mix of arts and culture here, with numerous galleries, venues, and restaurants.
The city also hosts the annual Mill Valley Film Festival, attracting worldwide film enthusiasts.
Tiburon
Tiburon is a scenic waterfront town known for its stunning views of the San Francisco skyline.
You can enjoy unique shops, upscale restaurants, and a relaxed atmosphere, making this town an irresistible destination.
Visit the historic Tiburon Railroad & Ferry Depot Museum or stroll along the waterfront walkway.
Sausalito
Sausalito is a popular destination for tourists and locals alike.
This charming bayside town offers breathtaking views of the San Francisco skyline, the bay, and the Golden Gate Bridge.
Delight in the vibrant art community, excellent dining options, and unique shops. You can also explore the Bay Model Visitor Center, a fascinating exhibit on the San Francisco Bay watershed.
San Rafael
As the county seat of Marin County, San Rafael is a larger city with a nice downtown area. There are a variety of restaurants, shops, and entertainment options here.
You can also find the Rafael Film Center, which showcases various independent and international films.
Surrounding Communities
Marin County is home to several other beautiful communities. Fairfax, Novato, San Anselmo, and more.
Each town offers its blend of culture and unique attractions.
You can explore the bustling downtown or attend the Fairfax Festival in Fairfax.
Novato is known for its charming Old Town, with historic buildings housing a mix of shops, restaurants, and businesses.
San Anselmo, Larkspur, and Ross all have quaint and unique downtowns.
Frequently Asked Questions
Popular attractions in Marin County?
Marin County offers a variety of attractions for you to enjoy. The region is known for its picturesque landscape, including the iconic Golden Gate Bridge and a beautiful coastline. Outdoor enthusiasts can explore Muir Woods National Monument, home to towering redwood trees, or head to Point Reyes National Seashore for hiking and wildlife watching. Consider visiting the Marin Museum of Contemporary Art or catching a performance at the Marin Theatre Company for arts and culture.
Famous residents of Marin County?
Marin County has been home to various notable personalities, such as actors Robin Williams and Sean Penn, and musicians like Metallica and Grateful Dead members. The county has also attracted famous authors like Isabel Allende and Amy Tan, who are inspired by its serene surroundings.
Why is Marin County expensive?
Marin County's high cost of living can be attributed to various factors. Its proximity to San Francisco makes it an attractive location for affluent individuals and families who want easy access to job opportunities and urban amenities. Additionally, Marin County's largely preserved natural spaces and limited land for development contribute to higher property prices.
Real estate market in Marin County?
If you're considering buying in the Marin County real estate market, you'll come across various properties, from historic homes to modern estates. The county's picturesque landscape, excellent schools, and convenient location contribute to its strong demand and relatively high real estate prices. The market can be competitive, so it's essential to research and plan your investment strategy carefully.